Specsavers: A masterclass in proving ROI on learning
How Specsavers used Learn Amp to prove ROI on learning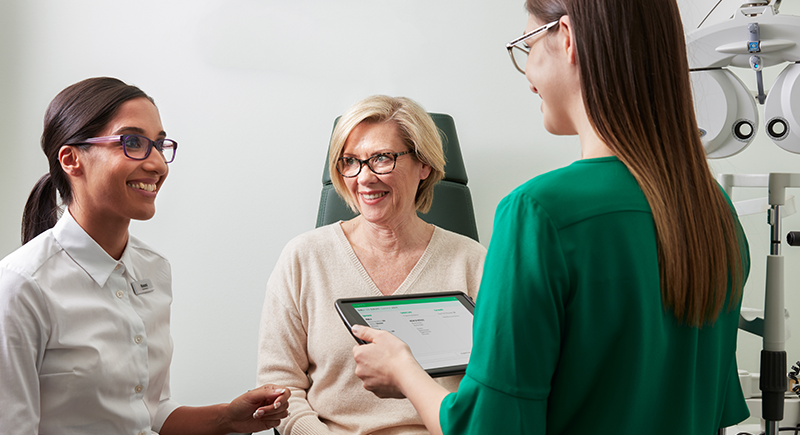 47
%
reduction in time-to-competence
$
128000
annual saving in first year
77
%
Reduction in time spent on key administration activity
A masterclass in proving ROI on learning
"We can now deliver training consistently to all of our staff across all of our locations with Learn Amp, and employees have access to their training at the time and point of need. This has enabled learning to happen on-the-job, while also making huge time and cost savings for the business."
Chris Dwyer, Learning Systems Manager, Specsavers
Specsavers is the world's largest privately owned optometry business, with more than 2,200 stores across 10 countries. Founded almost 40 years ago by optometrist husband and wife team, Specsavers has grown from two eye care professionals with a powerful vision to well over 35,000 colleagues around the world looking after the eye health of more than 40 million people.
In Australia and New Zealand, Specsavers is the leading eye care provider in both markets, providing eye care and as such, the impact of COVID-19 on access to eye care for more than 40% of Australians and 50% of New Zealanders was significant.
"We can now deliver training consistently to all of our staff across all of our locations with Learn Amp, and employees have access to their training at the time and point of need. This has enabled learning to happen on-the-job, while also making huge time and cost savings for the business."

Chris Dwyer

Learning Systems Manager, Specsavers
Four years ago, the learning offer at Specsavers was predominantly delivered face-to-face via workshops delivered at one of six Specsavers Training Academies located in Perth, Adelaide, Melbourne, Sydney, Brisbane and Auckland:
Those who did not live in these cities had to travel – often across large geographical distances – at a high financial cost and significant time investment.
This was also a single channel delivery with measurement, that was demonstrating a low overall effectiveness of the learning model.
Competency was measured through attendance to these workshops rather than actual capability to perform key tasks.
With this feedback, the team developed a new learning strategy, which included: 
Learning needs to live in stores: Right Learning, Right Time, Right Place  
Reduced time to competency  
Delivery through a variety of channels  
Support people to learn more quickly and on-the-job  
Enable self-directed, peer and ongoing learning  
Micro-learning, where possible (<10 mins)  
Packaged, curated, blended  
Needs defined accurately and quickly
While Specsavers embarked on the journey to overhaul our content in line with this strategy, their previous platform was a legacy LMS and did not allow Partners, Team members and Specsavers to:  
Attract and retain the right people
Provide employees with the relevant training aligned to their preferred career path, to develop their careers at Specsavers and retain them longer 
React quickly to competitor threats, customer demand and business needs by building capability quickly and decreasing time to competence 
Identify capability gaps and allow Partners to make timely and informed decisions about building people capability in a competitive environment with changing customer needs 
Provide an environment for Partners and Team Members to learn from each other, share their knowledge and experiences, resulting in more capable Partners and Team Members  
Enable their people to learn when they want, where they want, how they want, with the device of their choice 
Provide an intuitive user experience
The above resulted in numerous workarounds being developed to support our learning strategy, creating large administration overheads, a disjointed user experience and unreliability in learning data. 
Following a comprehensive appraisal process, Specsavers partnered with Learn Amp for the platform's ability to provide an intuitive user experience, reduced administration time, with functionality enabling the L&D team to decentralise learning and empower people to take ownership of their learning.
The Specsavers team had developed a new learning strategy, including:
Need for learning to live in stores: Right Learning, Right Time, Right Place
Reduced time to competency
Delivery through a variety of channels
Support people to learn more quickly and on-the-job
Enable self-directed, peer and ongoing learning
Micro-learning, where possible (<10 mins)
Packaged, curated, blended
Needs defined accurately and quickly
In partnership with Learn Amp, Specsavers embarked on a journey to deliver their revised learning strategy; transforming the delivery and quality of learning across the region to deliver their overall vision: that Learning Lives in Store – Right Learning, Right Time, Right Place. Within this vision there were three key focus areas: Learning Culture, Learning Experience and Learning Management.
On brand
This began by using the fully customisable branding options in Learn Amp to give the platform its own look and feel, including the name 'iLearn'. Specsavers wanted to created an environment that felt unique to Specsavers and effectively immersed existing and new team members to Specsavers' culture, so having the option to fully customise the branding of the platform was crucial.
Access for a highly-distributed workforce
In addition, by leveraging the customisable log-in options with Learn Amp, to enable the use of a custom username rather than an email address being used as a username, since email addresses weren't unique per user in our environment. This meant that all in-store colleagues could access learning at any time, despite not having a personal Specsavers email address.
Getting 6,000 users up to speed, fast
Using in-app pop-up guides, Specsavers were able to quickly get their 6,000 new users up to speed with the platform, which they named iLearn. By creating a 'Welcome' learnlist with videos and tutorials, and featuring these on personalised homepage dashboards, the Specsavers team could help learners get the most from the new platform and deliver a consistent experience without manually assigning content, or running training sessions which they'd have to repeat.
And they didn't stop there! Specsavers continued to use dashboards to highlight monthly updates and learning opportunities, such as their regular 'Month in Focus' learning and customised channels of 'How Do I?' information for each role.
Structured onboarding and upskiller programmes
By structuring content into learnlists (modules) and channels (categories), Specsavers could build their onboarding journey for new team members. This included a combination of eLearning modules, documents and videos, structured into modules so learners had everything they needed in one place.
As well as onboarding, Specsavers used learnlists and channels to create specialist training for teams needing to develop expertise in their skill areas - in particular so they could achieve their goal of increasing team member competency to Level 2.
They built award-winning upskiller learning pathways across a range of programmes - for example, a series of modules for their Optics teams to ensure that new members had all the skills needed to hit the ground running. These modules are fully automated to assign to new Optics team members in specific locations, so the Learning and Development team no longer need to administrate learning.
With built-out upskiller pathways, the Specsavers L&D team are now able to decentralise the 'control' over learning to subject matter experts (such as In-Store Trainers) - as trainers have all the resources they need in one place. This has meant the L&D team can balance consistency and high quality of learning with decentralising ownership, despite having a highly-distributed workforce across Australia and New Zealand.
Bringing expert training to team members
Previously, much of the specialist training was delivered in-person, resulting in high expense for travel and lost time. The Specsavers team transformed this approach:
Using Learn Amp events, Specsavers were able to promote and deliver all in-person training events, virtually.
Using the Zoom integration, Specsavers could automate the uploading of session recordings, and attendance automatically tracked.
Managing risk in a highly-regulated industry
Being in a highly-regulated industry meant it was important for Specsavers to maintain the integrity of previous learning records tracked in the old system. They were able to map almost 2 million records of historical completion data to content in their new iLearn, meaning they're able to continue reporting on completion data for both 'active' team members and team members no longer at Specsavers.
Using task automations, Specsavers could set up a series of tasks to go to the right people, in the right locations at the right time, which send out reminders to learners and their managers to ensure a high level of compliance is maintained across all regions.
Using an optional 'time-out' setting, Specsavers could meet security standards by timing out users after no activity for a set time period. With team members in stores so often on the move or away from devices, this was vital to ensuring a higher level of security.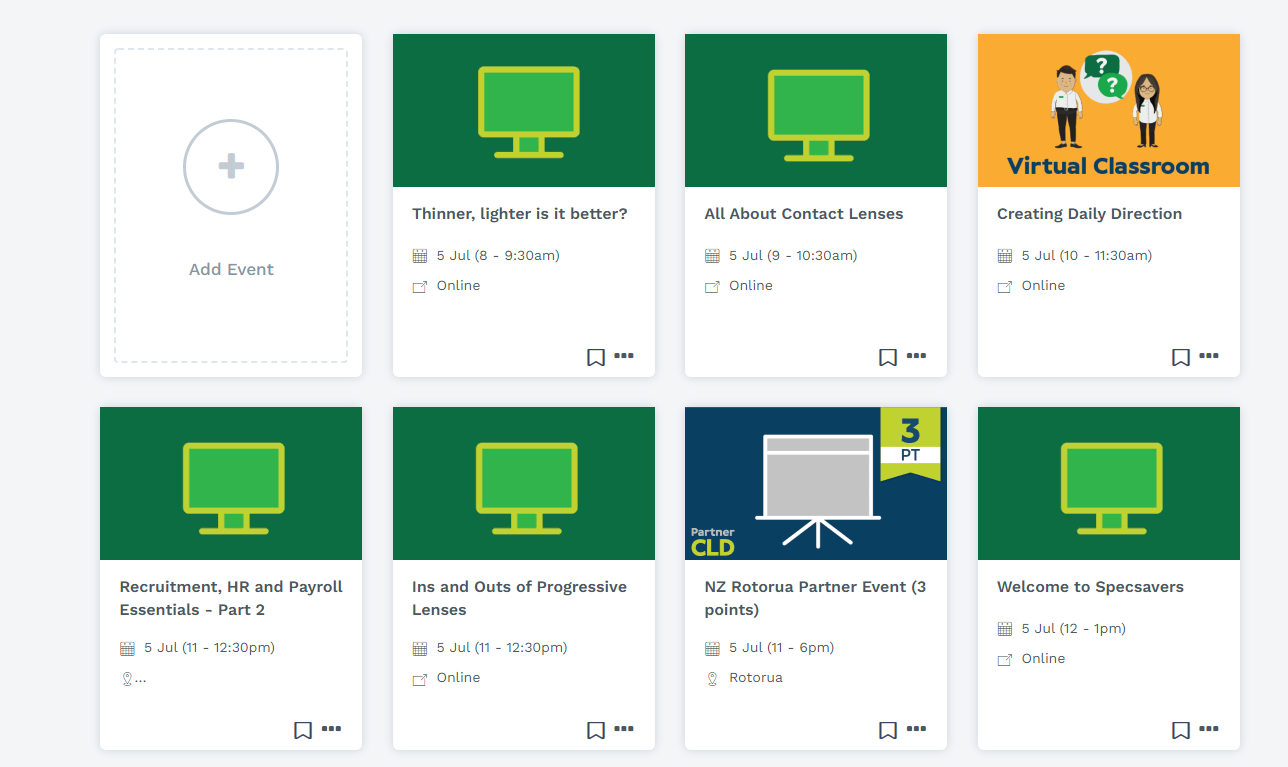 "Great to be able to see people's progress for training. It allows me to be more in touch with how people are progressing. I love that it is personalised to allow the individual to set their own goals by setting their own tasks. Much better clarity of what content is available in the system. So much easier to find things and access them."

Store Partner

Specsavers
The results showed much greater engagement than with the existing system; an intuitive experience which was easy to use, anytime, anywhere on any device; and, also indicated greater efficiency with an average 77% time-saving across key administration activities which increased our team's capacity to support major initiatives and react quicker.
Efficiency Gains for the admin team
Learn Amp also provided critical time savings for administrators of the system. Key examples of time savings include:
Uploading and publishing content – from 60 minutes to 5 minutes per item
Creating new events to register for – from 15 minutes to 5 minutes per event
Updating user details – from up to 5 minutes to 2 minutes per user
This equated to 23 hours a week in time-saved, which equated with $1,035 weekly or $54,880 per year.
Previously, launching new programmes of learning took 16 hours to design and deliver. To quickly deliver new programmes, with Learn Amp, Specsavers could:
Combine content from multiple areas
Leverage Learn Amp's curated library
Which led to an 87.5% time-saving which equates to $1,303 per programme and an additional $7,818 saved per year.
In total the time-savings equated to $62,698 saved in the first year for the L&D team and $128,000 saved annually in the first year for the company.
Truly agile L&D
Learn Amp has also increased agility for the L&D team.
Two days after our launch, Victoria entered its fourth COVID-related lockdown. This represented an opportunity to put the system to the ultimate test.
When lockdowns occur and customer foot traffic reduces, teams are directed to complete training, as an opportunity for Team Members increase their capability in preparation for the pent-up demand returning to stores when lockdown lifts.
With Learn Amp:
Within two hours of meeting about the training offer following the announcement of lockdown, learnlists of suggested training had been built, approved and set as tasks. This included adding extra virtual workshops and adding capacity to existing workshops.
In the 13 days after deployment of the lockdown learnlist, it had been accessed by 717 people and viewed 22,436 times and viewed over 1,000 times per day.
It resulted in 1,796 completions of compliance content, reducing legislative risk for our overall Victorian region.
621 participants took part in virtual workshops over these 13 days, resulting in a much more highly skilled workforce ready to return to serving customers.
This kind of agility would not have been possible before Learn Amp. To build and deploy an equivalent collection of learning would have taken close to two days, with no direct method of notifying team members of the existence of the learnlist via in-built notifications. This lockdown learnlist methodology has gone on to be reproduced on a national scale for subsequent states that have had to experience lockdowns recently, and has led to increased competency across various teams - an overall 47% reduction in time-to-competence.
Decentralised learning to stores
Not only has the new iLearn platform resulted in efficiency and agility gains for the Specsavers L&D team, it has also resulted in better training outcomes and a more capable workforce.
In-Store Trainers (ISTs) at Specsavers are critical to building the capability of store teams and are voluntarily nominated by Store Partners. Specsavers set a goal to have 100% of stores with an IST, in order to fully decentralise learning to stores.
At Specsavers, Team Member capability is measured through a series of assessments and observations with an increasing range of complexity from Level 1, 2 and 3. With Learn Amp, they have not only seen an increased trend in number of Team Members competent at Level 2, but also Levels 1 and 3.
In the first year, Specsavers drove an increase in both the number of ISTs and team member capability levels. Here were the results:
Pre-launch, 68% of stores had an IST
Post-launch, 90% of stores in each region with an IST, with Queensland having reached 100% in May 2022.
38% increase in In-Store Trainers at 'Bronze' level
IST capability increase resulted in an 18% increase in overall capability of in-store team members (at 'Level 2')
Increased engagement in learning
The new iLearn launched to 7,250 Specsavers team members on the 25th of May 2021, six months after the official start of the project.
Key performance indicators for engagement showed a high volume of visitor activity. On launch day, Specsavers saw 1,596 users log in, and over the first three weeks continued to average log-ins at 1,000 visitors per day – a 46% increase on the latest month's data from the previous system.
"Before Learn Amp, training levels were plateauing and in some cases even declining – but now they're on an upward trajectory. We've been able to introduce an incentive system for our in-store employees based on training, which has only been possible since we introduced the Learn Amp platform."

Chris Dwyer

Learning Systems Manager, Specsavers
Read more customer success stories